Window Glass Replacement | Glass Repairs Perth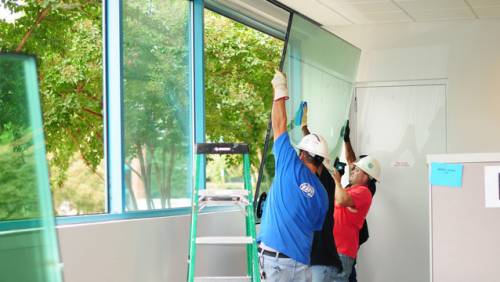 Glass Repairs Perth

At Lakers Glass, our window glass replacement and repair services mirror our commitment to high quality and standards. We supply and install nothing but high grade materials, carried out by a team of trained professionals. We are the best and trusted glaziers company in Perth, WA. Give us a call whenever you need broken glass fixed or bathroom mirrors installed. 

Window Glass Replacement

A broken window in your home or commercial property can be dangerous, and should be fixed right away. Covering the hole with a duct tape or some other temporary fix, instead of hiring glass repairs Perth services immediately, can leave you vulnerable to theft. If the glass shatters and cause injuries, you may be held liable as well. 

Lakers Glass specialises in window glass replacement in Perth. We can send a qualified tradesman to inspect and fix the damage in no time. 

Our glass specialists can assess and replace different types of window and glass parts. From residential to commercial windows, we have the tools and skills to get the job done properly and quickly. Our window glass replacement services also extend to replacement or installation of bathroom mirrors Perth. 

For a smooth and streamlined glass repairs Perth, we coordinate with other trades and services to ensure that every aspect of the job is accounted for. This is the best way to restore your property to its original condition. 

We handle different types of glass for glass repairs Perth

Glass comes in many shapes and sizes, and they are grouped into general categories: 
Ordinary annealed glass
Laminated safety glass
Energy efficient glass types
Tinted glass 
Coated glass
Insulated Glass Units (IGU)
Mirror
Decorative glass

Each of these types of glass have different characteristics, and what you choose for window glass replacement or glass repairs Perth will depend on your needs. Window glass, for example, is available in a range of tints, making it suitable for when you want coloured-glass installed. 

As specialists of window glass replacement and glass repairs Perth, we have the resources and network to source the glass type you want installed, and meet your specific needs. 

Bathroom mirrors Perth

A broken bathroom mirror is unsightly and will render the fixture useless. But wall-mounted mirrors are more difficult and complex to fix and repair than free-standing or floor mirrors. This is why you need to hire experts in bathroom mirrors Perth repair and replacement. 

Lakers Glass have a team of specialists well-versed in handling various types of mirrors - ordinary annealed mirror, safety coated annealed mirror, laminated safety mirror and toughened mirror. We can provide you with a professional glass advice, and carry out professional and reliable bathroom mirrors Perth services. 

Window glass replacement and bathroom mirrors Perth

Lakers Glass carry out glass repairs Perth and bathroom mirror repair services 6 days a week. Give us a call today and we will have your window glass and bathroom mirrors fixed and replaced in no time.